Λέξη-Λόγος, ενήλικο σχολείο!
Το Λέξη-Λόγος γιορτάζει τα 18α γενέθλιά του, την ενηλικίωσή του, με τα εγκαίνια μιας έκθεσης που συνδυάζει σχέδια και ποιήματα, την παρουσίαση της εφημερίδας των μαθητών του και ένα μεγάλο χορευτικό πάρτι στην ταράτσα του. 21 Ιουνίου στις 9:30 μ.μ.
"Άραγε, μία ιδέα, ένα όραμα, ένας στόχος, ενηλικιώνονται ποτέ; Μήπως τα φωνήεντα και τα σύμφωνα δεν εκτοξεύονται αέναα σ'έναν ασύμμετρο χορό στον ουρανό των σκέψεων και των λεγομένων;
Η ενηλικίωση δε γνωρίζει την αντίθεσή της, την «ανηλικίωση», προϋποθέτει στο φαντασιακό της εντούτοις την αντίφαση, ευθύνη και ελευθερία. Δένει στο άρμα της απώλειες και ματαιώσεις, χαρές και κατακτήσεις.
Ξεδιψά στην αστείρευτη πηγή των εμπειριών, των εκπλήξεων. Οδηγείται παντοτινά από την πολύτιμη παιδική ηλικία στο ακέραιο μονοπάτι της συνειδητοποίησης."
Χρόνια πολλά στο ενήλικο Λέξη-Λόγος!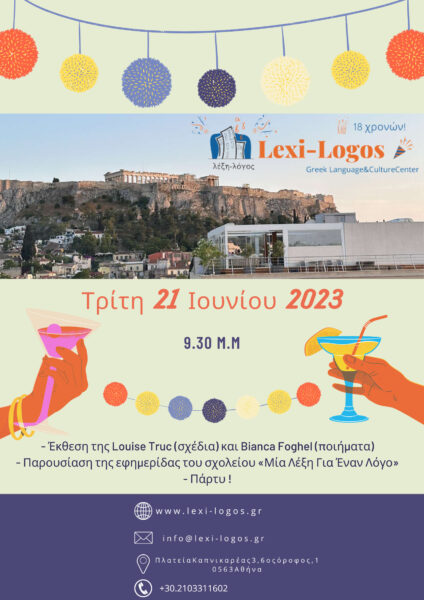 Lexi-Logos, école adulte!
L'école de grec Lexi-Logos fête ses 18 ans, son âge adulte, avec le vernissage d'une exposition associant desseins et poèmes, la présentation du journal de ses élèves, et une grande soirée dansante sur sa terrasse. 21 juin à 21h30
"Une idée, une vision, un objectif arrive-t-il à maturité ? Les voyelles et les consonnes ne sont-elles pas constamment lancées dans une danse asymétrique dans le ciel des pensées et des mots ?
L'âge adulte ne connaît pas son contraire, "minoritaire", il présuppose pourtant dans son fantasme la contradiction, la responsabilité et la liberté. Elle lie à son char pertes et frustrations, joies et conquêtes.
Il étanche sa soif à la source intarissable d'expériences, de surprises. Il est toujours guidé depuis l'enfance précieuse sur tout le chemin de la réalisation."
Joyeux anniversaire à Lexi-Logos!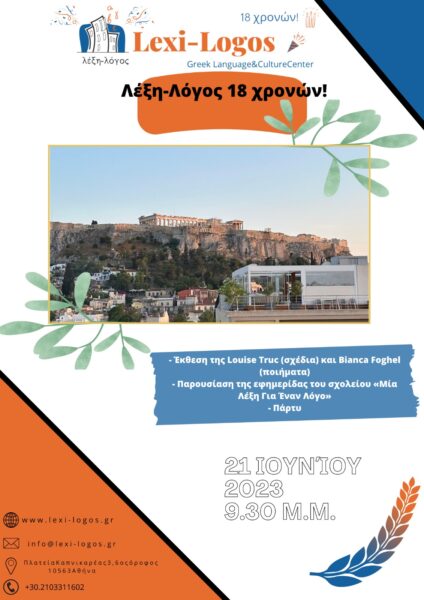 Lexi-Logos, adult school!
The Greek language school Lexi-Logos is celebrating its 18th birthday, its adulthood, with the opening of an exhibition combining drawings and poems, the presentation of its students' journal, and a big dance party on its terrace. June 21 at 9:30 p.m.
"Does an idea, a vision, a goal ever come of age? Are the vowels and consonants not constantly thrown in an asymmetrical dance in the sky of thoughts and words?Adulthood does not know its opposite, "minority", it nevertheless presupposes in its fantasy the contradiction, responsibility and freedom. She binds to her chariot losses and frustrations, joys and conquests.
He quenches his thirst in the inexhaustible source of experiences, of surprises. It is forever guided from precious childhood on the whole path of realization."
Happy birthday to Adult Lexi-Logos!
See also